Venice (2N), Florence (2N), Rome (2N)
Explore Travel Videos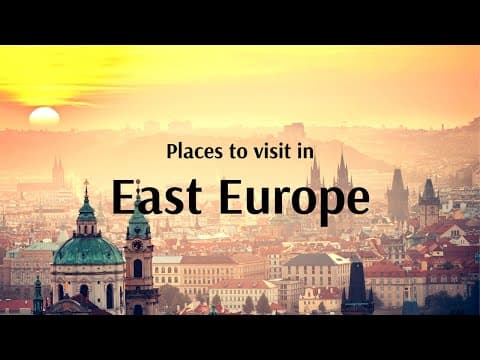 Places to visit in East Europe with Flamingo Transworld!
Frequently asked questions about Italy Heritage Tours
Group tours consist of certain number of people touring together to a destination. Group tours can be a great way to know new people and explore well planned itinerary covering the best places. No changes will be possible in your group tour itinerary. In each destination the group consists of approximately 40 to 55 members.
Individual tours are tailor made tours designed and arranged just for you. You have a liberty to choose your own hotels, and attractions as per your taste.
At the time of booking, passengers are given different options to choose their mode of transportation like:
In Private Transfer you can also choose to do sightseeing by private vehicle which will be available from one point to another. The private vehicle will be pre-booked on a pre-decided route and timings decided in advance as well.
Vehicle at disposal means that a car will be with you throughout the travel trip for which timings and kilometers will be decided in advance. If you use the car outside the travel package distance or time limit then it may not be possible or it will charged additionally. Vehicle at disposal offers more flexibility and control over the itinerary. Also private van tours include a coach at service.
SIC (Seat in coach basis) SIC coach transfers depart only at fixed times and stop at different hotels enroute where other passengers may be picked up or dropped off which mean it time consuming. You will be traveling with other passengers and passengers of different nationalities which offers a good chance to interact with people from different parts of the world. Before joining the tour you need to exchange tour vouchers for your original tickets from the concerned office. Many time the tour starting point is not from the hotel so then you need to reach the departure point from your hotel at your own expense.
Meals which will be provided on tour will be mentioned in your tour itinerary. Usually meal menu contains of Indian vegetarian food, Jain food (no onion, no garlic, no potato), local vegetarian food, if requested Indian non-vegetarian food and local non-vegetarian food.
Visa is an official permit that helps you enter a foreign country and stay there for a specific period of time. Flamingo does serve visa service. Talk to our travel consultant for visa process details for which you will have to submit certain documents.
| | |
| --- | --- |
| Destination | What is the best time to book? |
| USA and Canada | Book your tour at least 3 months before the travel date |
| Southeast Asia | Book your tour at least 1 month before the travel date |
| India | Book your tour at least 1 month before the travel date |
| Australia, New Zealand and South Africa | Book your tour at least 2 months before the travel date |
| Dubai | Book your tour at least 1 months before the travel date |
| China and Japan | Book your tour at least 2 months before the travel date |
| Europe | Book your tour at least 2 months before the travel date |
Europe may not be among the biggest continents but rather it has an exceptionally varied geography. Along these lines, the atmosphere of Europe is distinctive according to the region from bright Mediterranean isles to arctic Norwegian fjords. The best time to visit Europe changes according to topography and atmosphere designs over its 45 nations. Western Europe encounters a maritime atmosphere, southern Europe observes a Mediterranean atmosphere, and Eastern Europe has a continental atmosphere. This lovely mainland is really an all year goal for a perfect excursion, where any season is the best time to go to Europe. Explorers can limit travel dates according to the best time for Europe visit and activities in Europe. Be it the shore of Mediterranean or the Alps in Italy, Europe in winter is as supernatural as any other destination on the planet. In the shoulder periods of spring and fall, the groups are littler and inn costs are sensible.