Introducing Republic of Maldives
Places to visit
Must know facts
Things to do
Packages & Recommendations
Travel Articles
Introducing Republic of Maldives
Discover the captivating wonders of Maldives with our exclusive
Maldives Tour Packages
. Immerse yourself in the pristine beauty and turquoise waters of this tropical paradise. Maldives Tourism Guide offers a diverse range of experiences, from luxurious beach resorts and vibrant coral reefs to breathtaking sunsets and thrilling water sports. Indulge in world-class diving, snorkeling, or simply relax on the white sandy beaches. Explore the vibrant underwater world, go island hopping, or pamper yourself with rejuvenating spa treatments. Our carefully curated Maldives Tour Packages ensure a seamless travel experience, featuring luxurious accommodations, expert guides, and personalized itineraries. Embark on an unforgettable journey filled with romance, tranquility, and natural wonders. Whether you seek relaxation, adventure, or a romantic getaway,
Maldives Tourism
invites you to experience the magic of this tropical paradise.
About Maldives Tourism
Maldives Tourism is renowned worldwide for its stunning natural beauty and luxurious holiday experiences. As a sought-after destination, Maldives offers a unique blend of pristine beaches, azure waters, and a rich marine ecosystem. The picturesque islands are perfect for romantic getaways, honeymoons, and beach vacations. Maldives Tourism provides a range of activities, including snorkeling, scuba diving, water sports, and spa retreats. Explore the vibrant capital city of Malé, visit traditional fishing villages, or indulge in a luxurious stay at one of the many world-class resorts. With its breathtaking beauty and warm hospitality, Maldives Tourism Guide promises an unforgettable escape into paradise.
Best places to visit in Maldives:

Maldives is known as the land of the sun, sand and sea. The list of places to see in Maldives is so exciting as each and every attraction will blow your mind.


1. Male
2. Hulhumale Island
3. Banana Reef
4. HP Reef
5. Baros Island
6. Halaveli Islands
7. COMO Cocoa island and many more
Best Things to do in Maldives:
Maldives is a full package of fun. Here is a list of exciting things to do in Maldives assuring a holiday you will never forget.


1. Go snorkelling
2. Parasailing
3. Kitesurfing or Kiteboarding
4. Sunset Cruise
5. Go for a submarine Ride and many more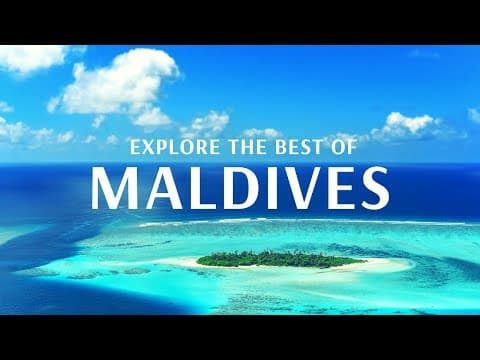 Trending travel articles
A New Wonder of the World: The Golden Bridge in Vietnam
An overnight internet sensation and thanks to Instagram - the Golden Bridge in Vietnam is at the top of the travel bucket list for many tourists. Since its opening day - it has topped the global architectural charts. Over the past few years, uniq